Iceland during winter is quite like wandering into a dream. The snow-capped glaciers tend to look intensely more blue, the waterfalls and lakes are partially frozen, the ice fields go as far as the eye can see, and the chill gives way to form magnificent ice caves and ice bergs. Although the days are short, light is beautiful and you can even catch sight of a full rainbow like we did.
That brings us to Jökulsárlón, a glacial lagoon that borders Vatnajökull National Park in southeastern Iceland. As we were driving along the coast and into the park, all I could think of was how lucky I was to be here in my favourite country during my favourite season with my favourite person (talk about inception) and to witness this surreal sight that was sure to become my new favourite.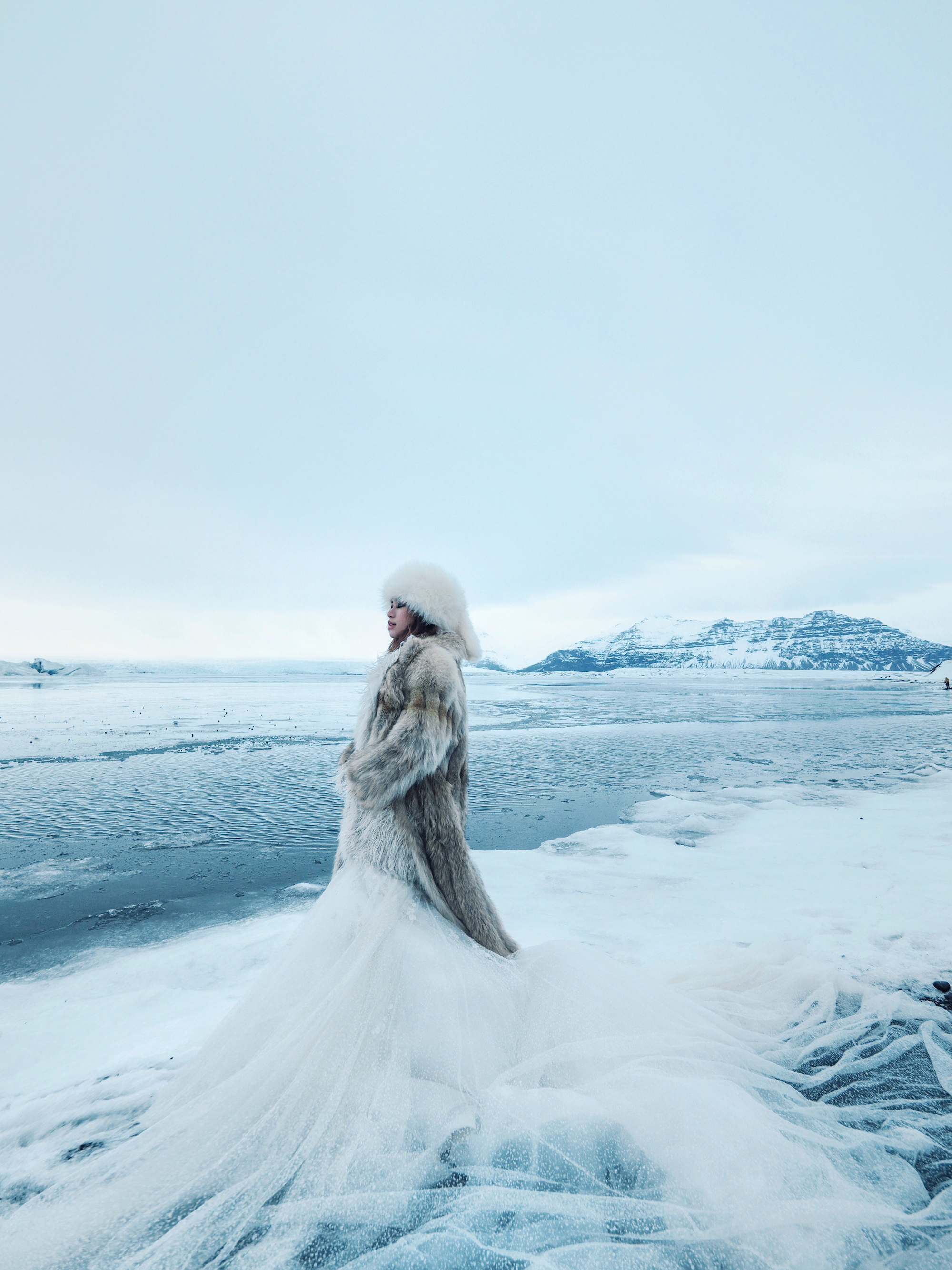 The spectacular glacial lake was frozen and dotted with glistening icebergs from the surrounding Breiðamerkurjökull Glacier, part of larger Vatnajökull Glacier. It really is one thing to look at a photo and appreciate the beauty of a scene, and it is another completely to stand there in person and have that moment take your breath away. Jökulsárlón is the most beautiful place I've ever been to, and I'm dying to see which next destination can top that.
Anyway, after I finally ran out of ooh's and aah's, my now-fiancé and I got changed into our suit and gown respectively. We had planned to do a special shoot next to the vast lagoon (as we usually do for most of our trips as keepsake), and as we were setting up, a few seals peeked out from under the water and surprised us.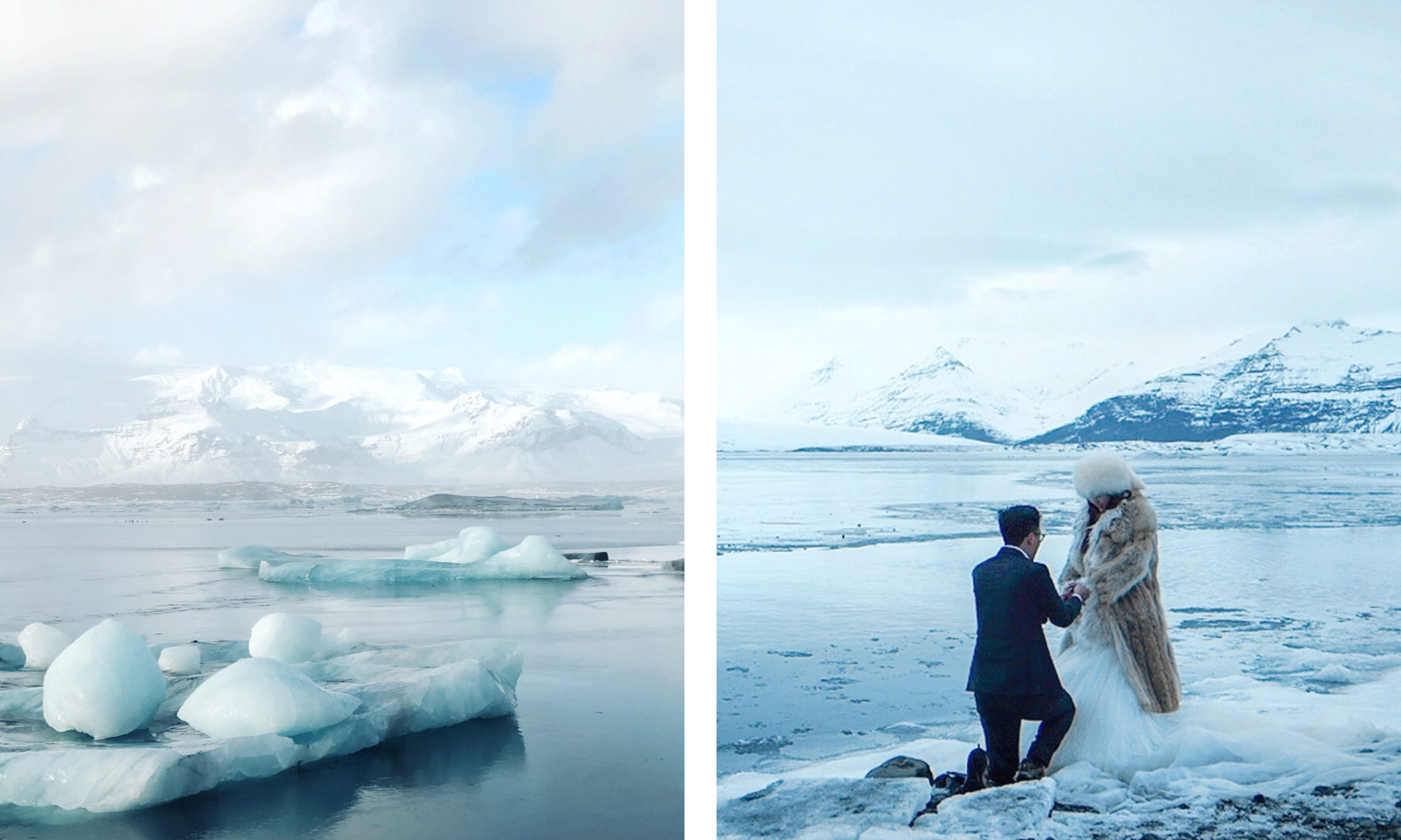 What happened next surprised me most. King handed me an iPad and told me to watch a video he made, and I did (the entire time I was blown away by how great his editing skills were) – and only up till the last few seconds I looked up in shock. He then got down on one knee and asked me to spend the rest of my life with him. Of course I said yes! By this point my cheeks were numb from the cold, and only after a minute or so, life hit me hard and I started crying. Right now, I'm struggling to put my feelings into words, especially on such a public platform like this, but know that I am over the moon and so excited to embark on this new chapter. Hopefully I have the chance to share it with you guys as well, thank you for all the well wishes and super big love!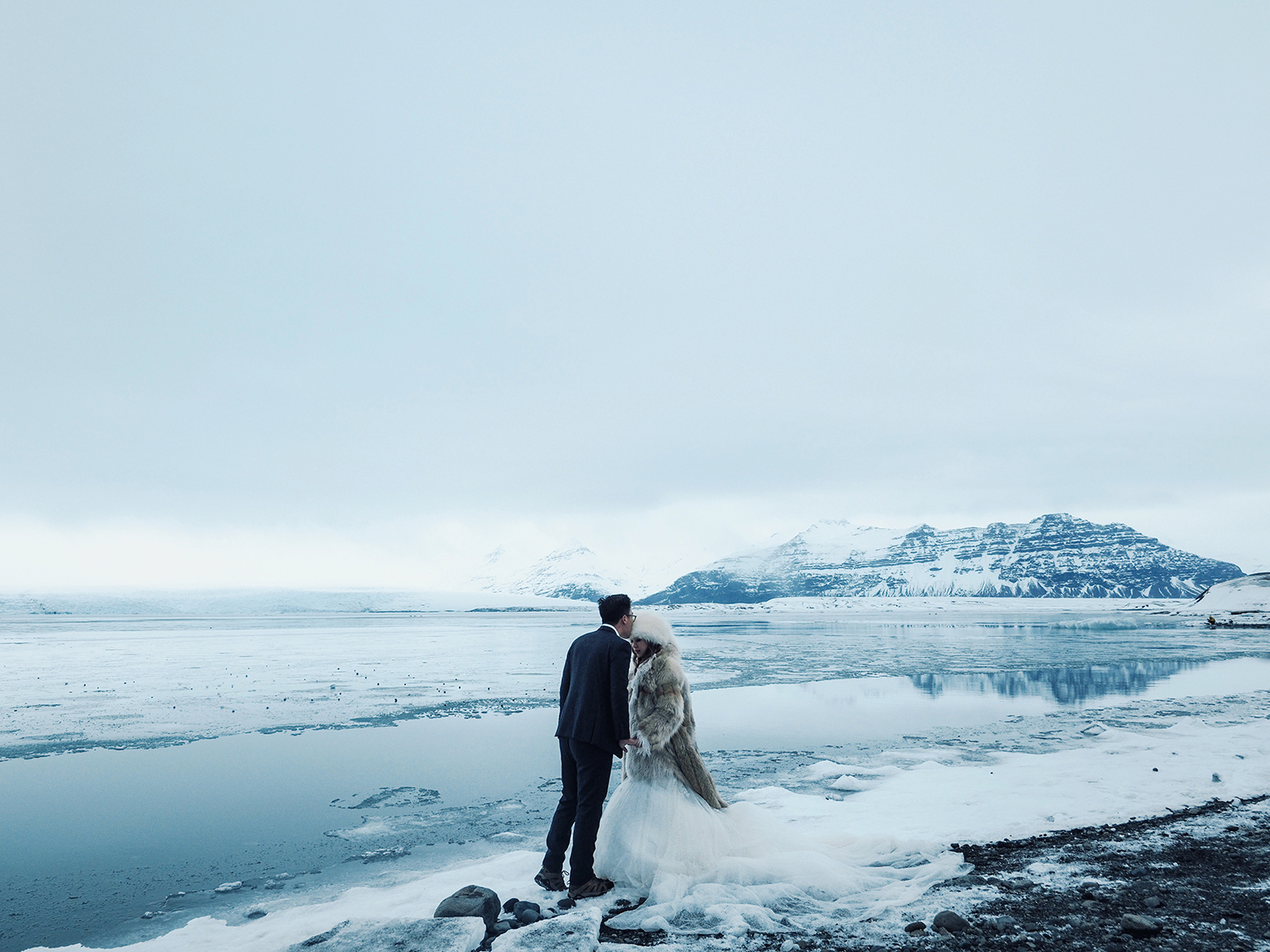 The below photos were actually taken moments before the proposal happened, and they turned out so wonderful that I wanted to share it too.
I thought I'd also answer the top three most popular, recurring questions –
Q: How did you both meet?
A: We met through a close friend's wedding (I was a bridesmaid and he was a friend of the groom) and hit it off right away! It was so unexpected. Love really finds you.
Q: Did you know he was going to propose when he handed you the video to watch?
A: Honestly and truly no. Prior to this trip, we had discussed some other plans for the year and so I never expected a proposal in Iceland. Admittedly I was completely focused on my game-face for the shoot and was quite confused when I was first asked to play the video, hah!
Q: Would you recommend visiting Iceland in winter?
A: Absolutely! Don't let the cold put you off. The drives and sights are really much more magical in the snow. I mean, have you seen Icelandic horses in the winter landscape? It's unbelievable.
PREV. ITEM
NEXT ITEM
READ COMMENTS -
1 COMMENT